My name is Billy and I am one of Akkus's many friends at the shelter. I am afraid I have some very sad news about our dear friend Akkus as he recently passed away to the Rainbow Bridge. He was looked after very well by our human friends with good medicine that relieved his pain and kept him calm. He will be sadly missed by us all as he was the oldest dog in the shelter and had been with us for a very long time.
Before he passed, Akkus asked me to take on the job of what's called being the mascot of the shelter. All of my dog and human friends said that this was something called a 'great honour' so I am very happy and humble to accept. I should say that I am about three years old and I used to live on the streets of Gocek near here. Unfortunately, I have been told that I was a very naughty dog sometimes as I liked chasing cars and motorbikes and sometimes scared people who did not like me. Despite the fact I had very many friends in Gocek the people in charge of the town said I had to go to the shelter so here I am.
I live in the big garden in the shelter with all my friends and I run free most of the day. Don't tell my dog friends but I am really the boss around here in the garden. If they are naughty, I box their ears and I help the new dogs to find their way. The best thing for you my friends is that I see most of what is going on so I can tell you lots of stories. Also, because I am in the garden if any of you come to visit, I will be one of the first dogs to greet you and show you around.
More news coming soon.
Love from Billy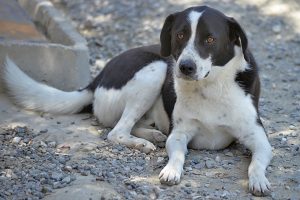 This is me ……. Billy