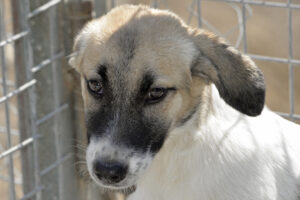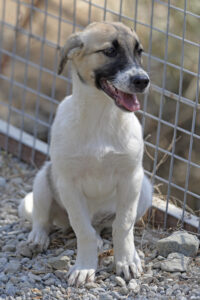 Hi friends, today I have a sad and happy story to tell you about puppies living in the forest.
One day a couple of weeks ago a kind person who was on holiday in the area was passing by a bridge not far from our shelter when they noticed a puppy in the forest. They were worried that the puppy was on its own and may need some food and help.
They went to get it some food and sure enough it was very hungry. While they were there, they noticed two more slightly bigger puppies hiding nearby. Fortunately for the puppies they were living near a fountain so they had plenty to drink and wouldn't get thirsty in our very hot summer.
The kind person sent what is called an email, I don't know what that is, to my human friends at our shelter telling them all about the puppies and asking them for help. My human friends went to the bridge and managed to catch the puppy and bring it back to the shelter. They also took some videos of the other puppies hiding in the bushes, there were at least three of them.
The kind person wanted to call the new puppy 'Lucky' because it was lucky to be rescued. Lucky was very timid at first hiding in the corner of her quarantine room but now she has come out of her shell and is happy to meet and be playing with all the other young dogs and puppies who were all very curious and keen to meet our new little friend.
One of my human friends has been back to the bridge many times to feed the dogs that are still there and he says there are at least eight young dogs living there. We will be trying to catch them as soon as we can but for the moment they are OK because when it is warm and they are being fed that is not a big problem. My human friends say if they get any older we may have a lot more puppies to catch so they need to be something called 'sterilised'. I don't know what that means but it sounds like a big deal to me. It will be winter soon and we need to keep them warm and safe with us.
The kind person who found Lucky has been even kinder because they are doing something called 'sponsoring' Lucky which means they will be sending some small amount of money every month to help pay for Lucky's food and something called vets bills. They are also asking their friends to make something called donations to help us all. If you would like to sponsor or donate please or use the button below or send an email to [email protected]
Love from Billy
This is where they live, its not very nice.