Well my humans were very excited today, they spent this morning capturing something called a donkey. Imdat told me its like a very big brown dog with long pointy ears and it makes a funny noise not a bark like us dogs but an 'eee aww'. You have to watch their back legs because they can kick you but Imdat said that the best bit is that they like apples and carrots, can you believe that?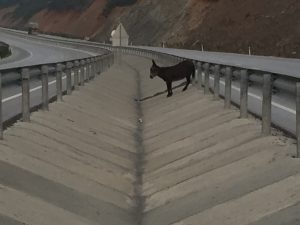 Anyway Imdat told me that my human friend Peter was driving along the road between Dalaman and Gocek very early in the morning and he thought he saw a donkey in the middle of the road. He couldn't believe it, he thought he was dreaming! So Peter drove all the way down the hill and back up the other side and there it was, he wasn't dreaming after all. So Peter got out of his car and went to see the donkey in the middle of the road but it wouldn't come close. 'Mmmm' Peter said 'What on earth am I going to do with this donkey?'. I know I'll ask Sina she'll know what to do. Sina said 'I am coming in my pyjamas, I will bring ropes and stuff so we can catch it'.  When Sina got there she started phoning everyone she knew and guess what; no-one knew what to do with a donkey stuck in the middle of the road.
Then some kind people called policeman came and helped Sina and Peter catch the donkey. Then they stopped all the cars and lorries that were driving very fast so they could take the donkey to the side of the road and tie her to a tree.
The donkey was very sad and scared at first but they got her some apples and she soon became very friendly so they could rub her nose and stroke her. She was in quite a bad state and she will need lots of care and attention then she will be good as new. Murat came in his truck and they took the donkey up the mountain to a place near us where she will be well looked after by all of our human friends.
So now we are over 230 dogs, over 100 cats and 1 donkey. We told Peter not to find anything else for a while if he could possibly help it.
Akkus