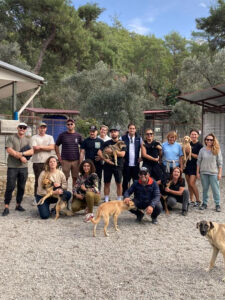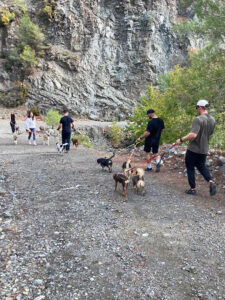 Hi Friends
I must tell you all about a fantastic thing that happened at the shelter the other day.
A lot of wonderful new human friends came to visit us. They are something called a crew (I don't know what that is) from something called a Super Yacht (I don't know what that is either but it has something to do with water). There were 10 of them and something called a captain.
They all love us dogs and they came to take around 100 of us for such a fun time having walks along our beautiful mountain trails around the shelter. They are such kind human friends and they also brought us lots of medicine and bedding to help keep us healthy and warm during the winter.
We had such a good time playing and walking with the crew and the captain that we had to have a long sleep afterwards.
My human friends at the shelter say that the crew are going to be staying in Gocek for some time so they will be coming to visit us again, we dogs can't wait for that day to come.
If any of you friends that read my blog or anyone else wants to come dog walking in our beautiful place then please send me an email at mailto:[email protected]. My human friends at the shelter will arrange everything for you and help you on the walks. Our shelter is a very friendly place and we will all make you very welcome.
Love from Billy