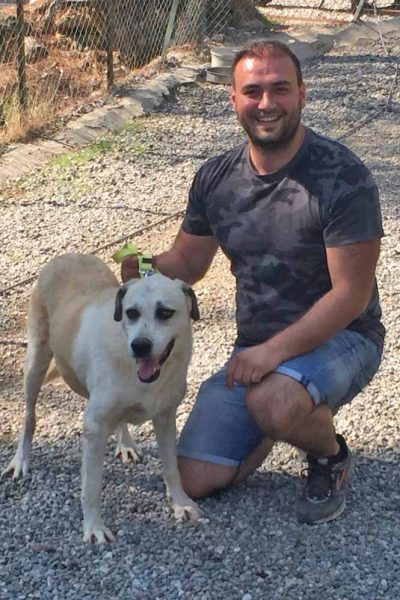 Volkan helping at the airport
Hello my friends, I have been having a great time with a new friend called Volkan who came to visit me and all of my dog friends from a place called Holland. I have heard of Holland before because lots of my dog friends get told they are going to something called new homes in the place called Holland. Volkan tells me Holland is great and he has lived there all of his life. I don't think that I will go to Holland  because I am very old and I have lived here happily in the shelter for a long time.
Volkan told me a nice but sad story. He once had a Turkish dog called Dunya who he took to Holland from the streets of Turkey and Dunya lived with him for all of his life and made Volkan very happy. Regrettably one day poor Dunya suddenly passed away which made Volkan very sad. Volkan missed Dunya very much and one night he had a dream in which Dunya was asking for his help so when Volkan awoke he decided he was going to find a way of helping dogs like Dunya in Turkey.
Volkan found out about our shelter on something called the internet and sent us something called an email asking if he could come to help my friends and I. Everyone said 'yes of course' so he flew in a noisy thing called a plane a great distance and here he is with us at the shelter.
Volkan spends his days with us dogs here in the shelter cleaning and tidying and taking us for walks. One day he helped to catch a poor Mummy dog who was lost with her two puppies. He also spent one evening helping Sina and Grace taking dogs to the airport. Volkan is a great friend to us and after he has to go back to Holland to do something called work he has promised to come back to help us again in the Spring.
What a nice man!
Akkus